Growing Spiritually…
What does it mean to grow spiritually, why should we grow and how do we grow spiritually? These are questions that will be focused on in this post.
To answer the question 'what is spiritual growth?', it is not out of place to take a cue from the implications of natural human growth. Human growth is generally measured by physical and psychological development. How a person looks, thinks, talks and exercises control over previously uncontrollable impulses (like falling or bed-wetting) are all factored into determining whether a person is grown.
It should, however, be pointed out that the conclusion that a person is grown is often the product of comparing the person to a preconceived image of how a grown person should act, talk, think or function. Put in another way, without a point of reference, there will be no basis for reaching a conclusion that a person is grown or not. For example, I cannot come to a conclusion that a person talks like a child if I do not know how an adult talks. It is in comparing the 'child' to the 'adult', that I conclude that he is a child.
Like it is with natural human growth, spiritual growth is defined by 'comparison'. However, unlike natural growth, man is not the point of reference in deciding whether a person is spiritually grown. The point of reference is Jesus Christ (Hebrews 12:2). It is to the extent to which a person becomes like Jesus Christ that such can be acknowledged as 'spiritually grown'. Ephesians 4: 13 – 15 (Amplified version) explains this concept thus: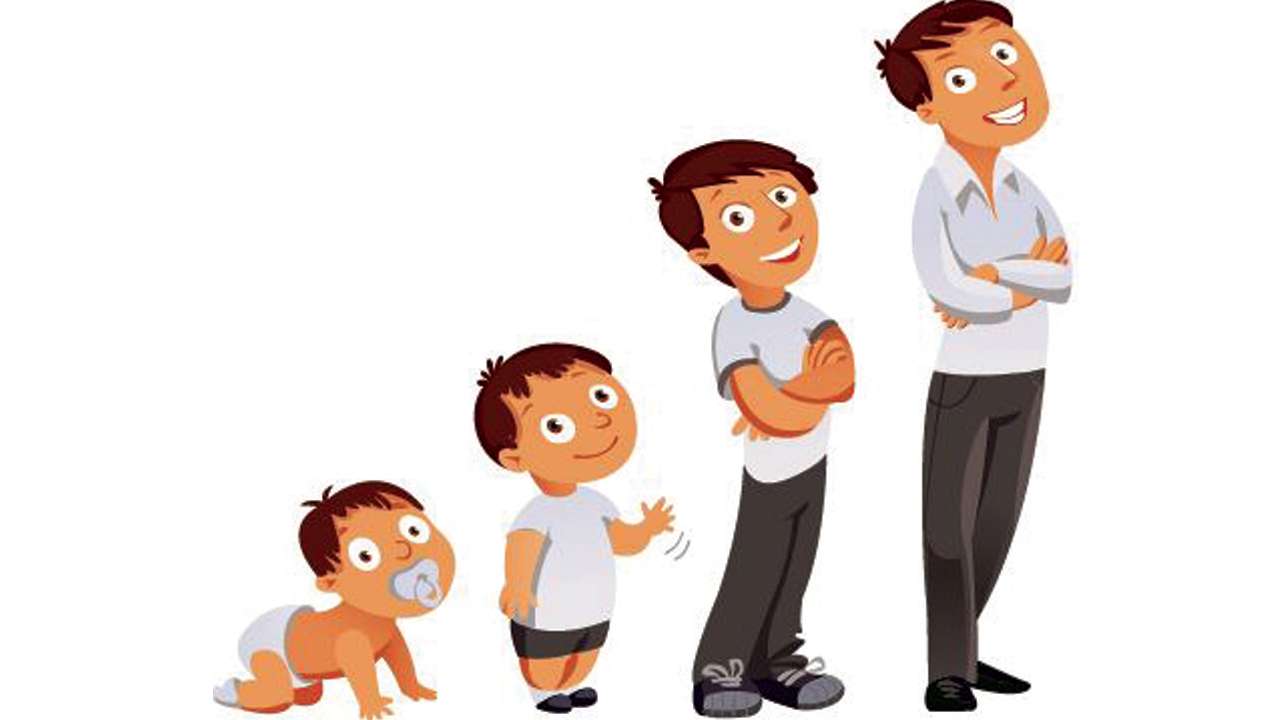 …until we all reach oneness in the faith and in the knowledge of the Son of God, (growing spiritually) to become a mature believer, reaching to the measure of the fullness of Christ … So that we are no longer children (spiritually immature), tossed back and forth (like ships on a stormy sea) and carried around by every wind of (shifting doctrine) … But speaking the truth in love (in all things, both our speech and our lives expressing His truth), let us grow up in all things into Him (following His example) who is the Head – Christ. 
The ultimate aim of 'spiritual growth' is to attain the image of Jesus Christ (Rom. 8: 29).
The image of Christ speaks to the nature of Jesus Christ. He exhibited this nature while He was on earth. Jesus (while on earth) exemplified the life of the spiritually grown man. Galatians 5: 22 – 23 provides a list of the features of this kind of life – love, joy, peace, longsuffering (patient), kindness, goodness, faithfulness, gentleness, and self-control. The Bible refers to these 'features' as the 'fruit of the Spirit'. And Jesus, in full, lived out the fruit of the Spirit. He was loving, kind and good (John 15: 9, Matthew 15:32, Acts 10:38). He brought peace (Isaiah 9:6, John 14:27). He suffered long and was faithful (obedient) (Phil. 2: 5 – 8, Hebrews 5: 8). He was gentle and had self-control. (1 Peter 2: 22 – 23, Matthew 11: 29).
Each of the fruit of the Spirit provides us with indices with which we can check our growth. How loving am I becoming? How joyful and peaceful have I become? Am I patient, good, faithful and gentle? Do I have self-control? The more we can answer these questions in the positive, the more we can say we are growing. Apostle Paul in 1 Cor. 3: 1 – 4 used this formula to conclude that the Corinthians were still 'babes in Christ'. Note that he did not conclude that they were babes because they cannot speak in tongues, prophesy or demonstrate other gifts of the Spirit. In fact, in 1 Cor. 14, Paul attested that the Corinthians could 'speak in tongues'. But the 'gifts of the Spirit' are not the proofs for Spiritual growth. Paul in 1 Cor 3 : 3 pointed at their 'envy, strife and divisions' as the proof of their immaturity.
But why should we grow? Galatians 4: 1 – 7 tells us that as long as an heir remains a child, he is not better than a slave. Growth helps us to appropriate (use) to the fullest our inheritance in Jesus Christ. Rephrased, the blessings and gifts of God (including Spiritual gifts) can only be profitably employed and engaged by the Spiritually mature. Wastage is one of the attributes of children. Remember the story of the prodigal son? (Lk 15: 11 – 32). Again, the older a person is, the more responsible such is presumed. Such grown persons are given responsibilities. It is the same way with God. The mysteries of the kingdom are committed to the grown and the Lord shares the deepest desires of His heart with them. Paul in Hebrews said he could not communicate certain truth to a group of people because they were immature (Heb 5: 12 – 14). Finally, the world (all creation) eagerly waits for the manifestation of the sons of God, mature children of God (Romans 8: 19).
How then can we grow? Again, let us take a cue from natural human growth. The food a person eats, the information such receives, the person's relationship and the experience such goes through are vital to growth. These ring true for spiritual growth. 1 Peter 2:2 admonishes us:
Like newborn babies, you should crave (thirst for, earnestly desire) the pure (unadulterated) spiritual milk, that by it you may be nurtured and grow unto (completed) salvation. (Amplified version)
Apostle Paul summarised what was responsible for Timothy's growth in 2 Timothy 3: 15:
…and that from childhood you have known the holy scriptures, which are able to make you wise for salvation through faith which is in Christ Jesus. (NKJV) 
At Children Sunday school, many years ago, we sang: "read your bible, pray every day, if you want to grow". This remains the foundational equation for Spiritual growth. Again, we see this in the life of Jesus Christ. At age 12,  He knew so much in the scriptures that He amazed grown and established scholars (Luke 2: 41 – 47). And, at various times, Jesus was reported as praying, including praying all through the night. (Luke 6: 12, Matthew 14: 23, Mark 6: 46, Mark 1: 35, Luke 5: 16).
In a future post, we will focus more on studying the word and praying. It is, however, sufficient to know for now that there is no Spiritual growth without studying the word and praying. The more we study the word, the more we know the right kind of prayers to say, and the more we will produce the 'fruit of the Spirit' listed above. Another way to say this is that reading the word and praying are the water, light and manure needed for our spiritual 'plant' to grow.
It is in this regard, that daily (morning) devotion is vital. Make it a point of duty to, at the very least, pray and study the Bible every morning. Be deliberate about it. Practically, ensure you hold on to an instruction from your study and prayer every morning. And go through the day with such instruction. Let such be your meditation for the entire day. This is one sure way of growing and prospering (Joshua 1: 8). You become, what you think the most about! (Prov. 23:7, Prov. 4: 23). Relying on the Holy Spirit, commit yourself to obey every word of God you read! Jesus obeyed, and He was perfected through obedience. (Hebrews 5: 7-9). Never forget that every word of God, every instruction of the Holy Spirit you obey is a rung on the 'ladder' towards assuming the image of Jesus Christ.
In conclusion, we must emphasise that while the gifts of the Spirit (word of wisdom, word of knowledge, faith, healing, working of miracles, prophecy, different kinds of tongues, interpretation of tongues) (1 Cor. 12: 8 – 10) are useful tools for growth (edification) (Eph. 4: 12), they are not proofs of Spiritual growth. Our resemblance of Jesus Christ is the proof of Spiritual growth. Aim for this!
Further Reading: Kenneth-E-Hagin-Growing-Up-Spiritually